Celebrate Summer with Goodwill
A lot has changed these past few months. A significant portion of the country has been vaccinated, restaurants have lifted capacity restrictions and indoor dining is allowed again, and stores are welcoming their customers with open arms. PPE precautions are still advised, but by now many of us have figured out ways to make a mask an outfit accessory like it's second-nature. Somehow, time flew by this year and the First Day of Summer kicked off on June 21st.
If you're a warm weather glutton like me, you might have already initiated spring cleaning and a wardrobe refresh that got your closet summer-ready. Goodness knows, after a winter of being cooped up inside, we certainly have a lot to look forward to during the summer months. Having "plans" is starting to be a reality again and the days where you're able to stay inside wearing your comfiest pair of sweatpants might be dwindling down – which, despite the protests from your cozy legs – is a good thing for your mental health and self expression.
The first day of summer was the perfect excuse to take stock of your existing summer wardrobe and fill in any gaps by a sustainable shopping trip at your local Goodwill store. Grab a friend or two and spend the day thrifting, of course taking selfie's throughout the process and sharing on your social channels tagging us @goodwillcolorado on Instagram!
What can make a closet full of thrifted gems so special is that you have the full ability to decide which (if any) trends you want to use to help decide your personal style – and you'll get to choose from trends over the years as you do so! Not all of this year's summer trends will be for everyone and that's okay! That's why when shopping second hand, you're giving yourself the opportunity to choose what styles make you feel good and tie into your own self expression, not that of fast fashion retailers. And you'll be making a choice as a consumer that supports the environment and your wallet as you do so.
Here are some of the biggest trends for Summer 2021 you can use as inspiration on your next shopping trip or put your own spin on them: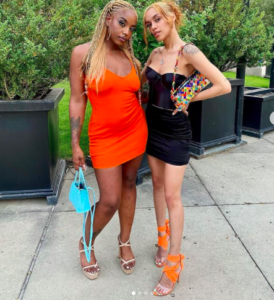 Photo: @mynamesdakayla
1. Neon
Bright, flashy colors has been a major part of the Gen Z Y2K trend that continues into the summer. You could think about tapping into the trend via a lime green skirt or a pair of heels that could be sure to stop traffic.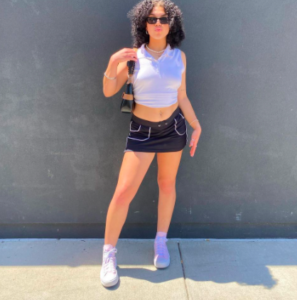 Photo: @simply.sophh
2. Low rise bottoms
The 90's are back, baby! This is one trend that's drummed up a controversial reaction but low rise bottoms including shorts, skirts, pants and especially jeans are back in business. It's up to you if you want to take it or leave it!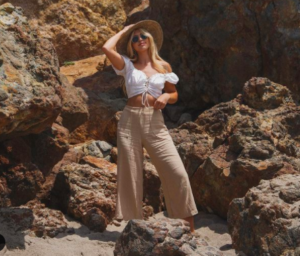 Photo: @reaganeconrad
3. Flare leg pants
One of the more fun trends in my opinion, I can't help but thinking all things ABBA and Mama Mia vibes. Whether or not a friend reunion is in the cards this summer, you can channel the happy memories with your own pair of pop star pants.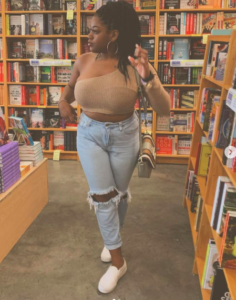 Photo: @jakaylamichelleee
4. Asymmetrical tops
One shoulder and cross shoulder tops are the style of summer. Cutout asymmetrical styles have also flooded Instagram influencers feeds. The plus on this one is the style is flattering and chic, making it a great baseline to add your own spin on what bottoms you pair it with.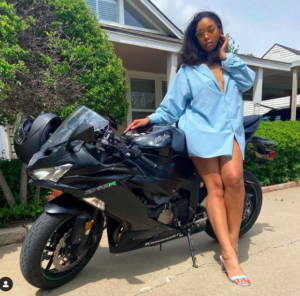 Photo: @the.beautiful.jennifer
5. Square toe shoes
Be it heels or sandals, the hottest trend for footwear this season is the square toe. The trend is starting to saturate the market, yet I do tend to wonder how long it will be around.
Be sure to join us at one of our stores from July 19-31 where we will be celebrating our Summer Shopping Spree, and enter to win a $100 gift card from Goodwill of Colorado!
*This blog was adapted from the Goodwill Industries International Blog.