Winter Fashion Mix-And-Match
It's easy to get in a style rut in the winter. It gets dark early, it's colder, it's cloudy and gray. And since all we want to do is curl up in blankets and drink eggnog, it's easy to forget that anything but gray sweatpants even exist.
A few things I try to do to keep myself from getting a bit too comfortable and letting my style slide (besides slathering on red lipstick for no real reason) is remembering a few trendy ways I can make any outfit feel a bit special.
#1: BOLD COLORS
Winter can be so gray and gross, it doesn't take much color to give yourself a little pick-me-up. I especially love putting on a bit of yellow to replace the sun that's so shy this time of year in my neck of the woods. Check out this sunny little number, complete with fun plaid and a splash of red.

Credit: @inclassthrift
#2: FRINGY-FRINGE
Is there anything more fun than a little fringe? No. The answer is ALWAYS no. Adding a little bit of motion to our wardrobe is a fun day to feel fresh again. There's plenty out there, and you don't need to go all Rhinestone Cowboy to make this look work. Check out this beautiful wool plaid riding coat with just a hint of fringe to set it off. Heck, I even have fringe on my house slippers. Something about that little swish makes me so happy.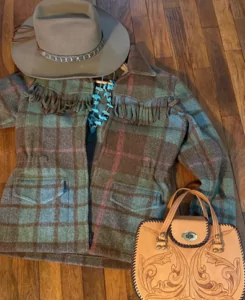 Credit: @hereigo_on_etsy
#3: KNITS KNITS KNITS!
Obviously the holidays are the reason stretch pants were invented, so make sure you're stocked up on head-to-toe knit options. They don't have to be boring or bland. Knits are perfect to layer your up with bold accessories, fringy pieces, and layers of MORE knits and still be able to have a second helping of stuffing. It's basically why winter is the best.
And the best part about winterizing your wardrobe to fit your holiday spirit is that at Goodwill, it's easy, affordable, and everything you buy will reduce the waste stream in your community. Each knit shirt, each fringy boot, every yellow blazer you find to put a spring in your step during these snowy months will help your neighbors learn new skills and provide them with new job opportunities when they need it most.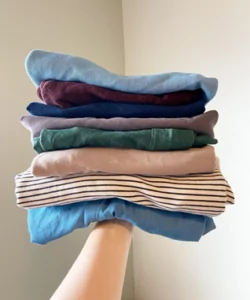 Credit: @thirftwithjaycee
For all your winter shopping needs, find a Goodwill store location near you.