Plan Your DIY Valentine's Day with Goodwill
I don't think of local Goodwill organizations as a thrift store anymore. Instead, it's a constantly-refreshed supply shop where I can find foundation pieces to accent for customized clothing and details to round out my home decor. Of course, I frequently find things, like a new handbag or set of dishes, that are ready-to-use just as they are, but the real magic for me comes from knowing that through its entrepreneurial business model of collecting and selling donated goods, local Goodwill organizations help communities extend the life of usable items in environmentally sound ways and prevent items from piling up in local landfills. That means I don't have to feel guilty or worried about taking a risk on reconstructing my finds—by using them as crafting supplies I'm just giving them a new lease on life! Since Valentine's Day is right around the corner, I thought we'd check out a few love-themed project materials to be on the hunt for during your next Goodwill trip…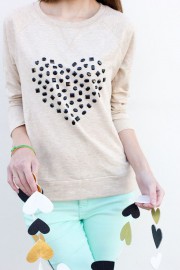 Image via studiodiy.com
As you're heading through the clothing racks, keep an eye out for a great basic top that you could bedazzle (just like the old days!) with a sweet Valentine heart. This one, shared by MERS/Missouri Goodwill Industries (St. Louis) on their Fashion & Accessories pinboard, looks both comfy and cute! Any basic top could be fixed up with this Valentine's Day twist. And it's not hard at all to get such a perfect looking heart—don't worry, you don't have to free-hand it! Ready to give it a try? Click through to find out what other materials you'll need and how to align the studs just so.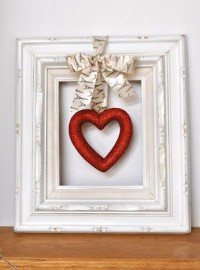 Image via littlebirdiesecrets.blogspot.com
Updating your finds for Valentine's Day isn't just about adding embellishment, sometimes you have to take a little away to get the right look! While you peruse the picture section of your local Goodwill, don't forget that the images inside each frame shouldn't be your only focus. Even the ugliest image could be mounted within a beautiful frame. Don't let what's in the frame distract you from the possibilities of the frame itself. This one, for example, became incredibly versatile when the art within it was removed. Now the focus is more on the frame's shape and texture plus the charming little heart hung within it. As Goodwill Industries of Southwest Florida, Inc. (Fort Myers) suggests on their Goodwill for the Holidays pinboard, even though you might make this project for Valentine's Day you can swap out the heart for a shamrock in March, and Easter egg in April, and so on as the year goes by. Two thumbs up for easy seasonal art!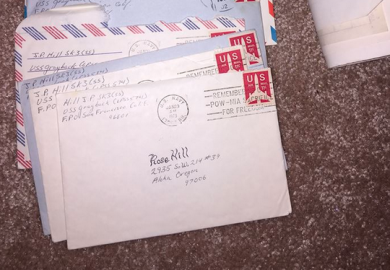 Image via Sara Redlich
And what could be more inspiring this Valentine's Day than love letters? Oregon Live reports that a Goodwill shopper named Sara once stumbled upon a stack of letters sent home from a soldier to his new bride in 1973. Sara wasn't sure how or why they were donated, but after years of searching, she was able to find Rose Hill and return the letters. If their owner hadn't been found, I think this sentimental Goodwill find would have been so lovely framed and hung or even decoupaged onto a shabby chic dresser! Everything you see in a thrift store has so much potential.
Do you have any Valentine's Day projects planned? Clothing, decor, gifts, and more—you know where to come for supplies, right? See you soon!